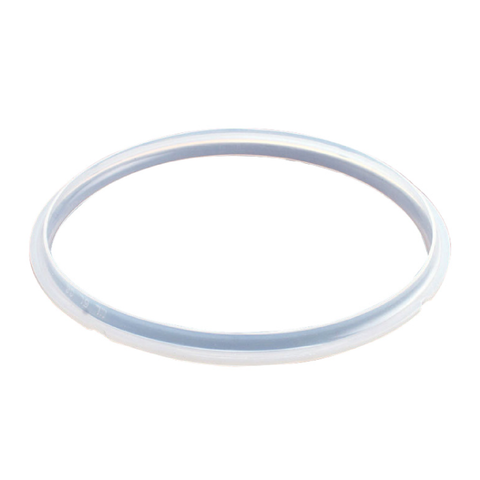 Replacement Gasket for the Denali Pressure Canner
⭐️ Replacement Gasket for your Denali Pressure Canner  ⭐️

—
PARTS INCLUDED
• Clear Rubber Gasket for 23-Quart Denali Pressure Canner
—
INSTALLATION
1. Remove lid of your Pressure Canner
2. Remove old Gasket
3. Install the new Gasket in the same manner as you just removed the old gasket
4. Make sure it is 'pressed' in properly so it fits snug around the inner-circle of the lid of the Canner.
—
Need a to purchase the Denali Pressure Canner still? Click Here
If you have any other questions, concerns, or want to give us a holler, you can reach out to our customer service team who would be happy to help you by emailing: help@denalicanning.com
Denali Canning only makes top-quality products so that your family can keep on Canning, Homesteading, Farming, and Living Sustainably through thick and thin! Who knows where the world is headed, but all we can say is... Let's Get Canning!
Shipping & Delivery
Products have quick, but different ship-times. We have information related to delivery time placed on each product's description page.
Most products will ship within 1 business day and take 3-4 business days to arrive. We pride ourselves on having very fast shipments, because we know you want to enjoy our products to the fullest!
Newly added products or on sale products may take up to 7-9 days for high demand, to perform proper packaging & shipment. During special holidays, orders may take longer to be processed.
Orders are processed on weekdays from Monday - Friday. On rare occasions, some orders may arrive later than expected due to extreme weather conditions, hurricanes or other natural disasters.
Pre-Order products will take up to 30 days to be delivered or earlier in some cases.
We are proud to state that all of our products ship from the USA! 
Denali Guarantee
Here at Denali, we pride ourselves on Premium Quality Products that serve Homesteaders, Canners, Off-Gridders, Hunters, Gatherers, Farmers, Kitchen Enthusiasts and so many more awesome people across the USA!
If you've ever bought a product from Denali Canning,
you know you're getting the absolute BEST!
That's why every purchase is backed with our Denali Premium Product Guarantee.
This means you get to be sure that the product you order is the product you get! And if anything doesn't work as expected, will replace for you to the best of our ability.
If there is a malfunction of any Denali product, not due to an operator error, we will help you resolve and fix the issue ASAP with our Best-In-Class Customer Service Reps!
FREE Shipping when you spend $50 or more