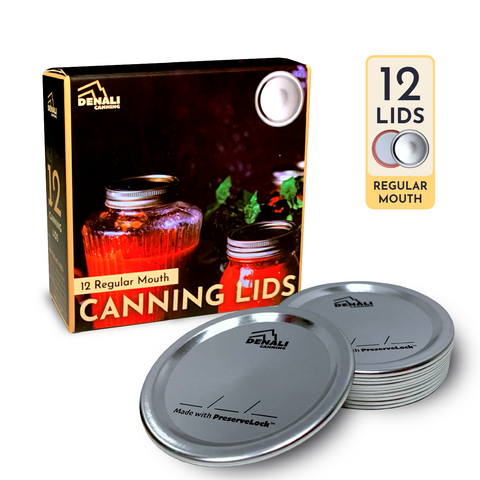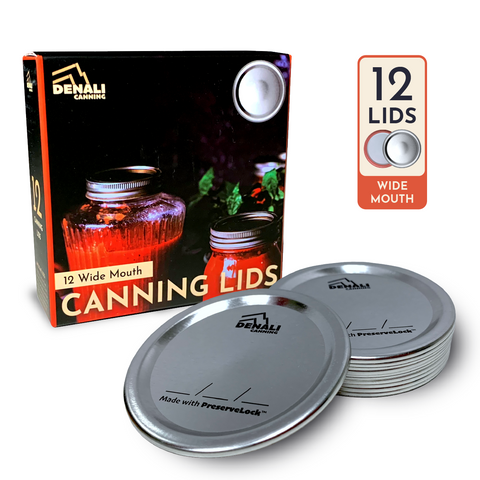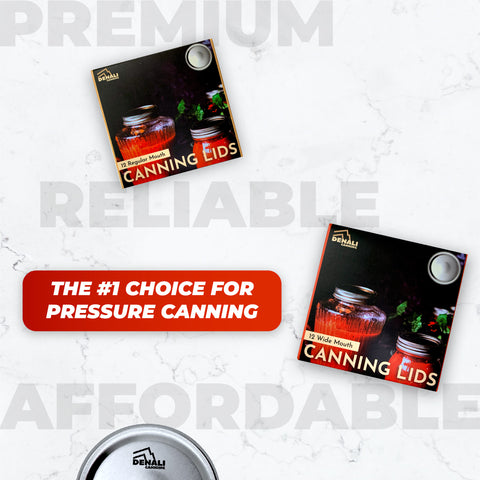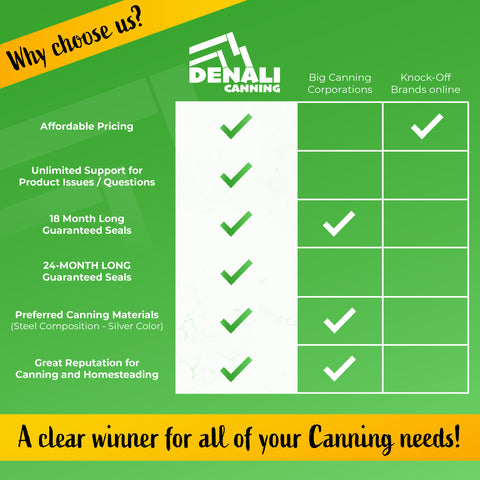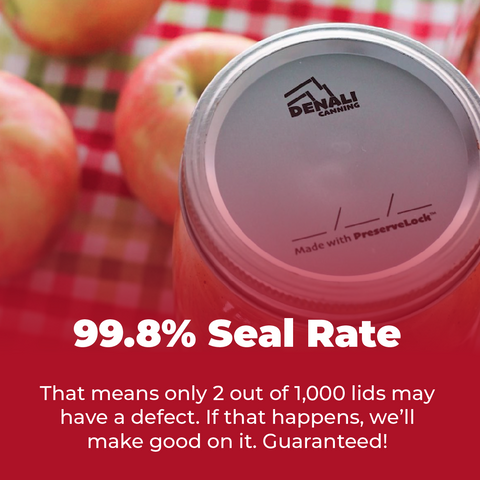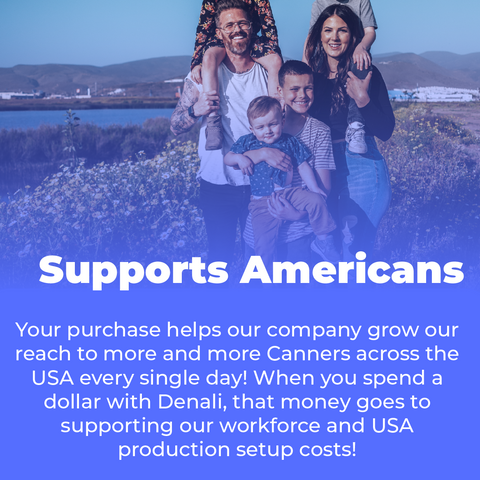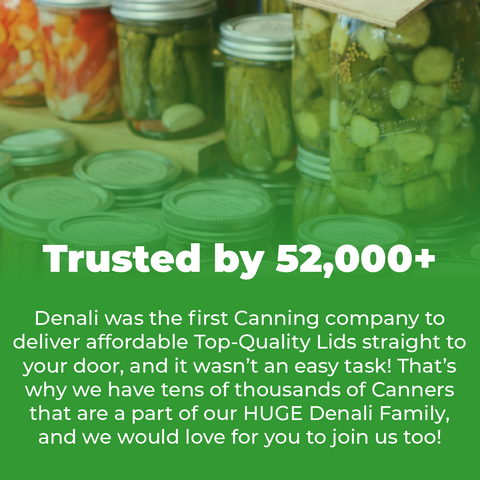 Free Pack of Denali Lids
🎉 THIS PACK IS ON US! 
1. ADD TO CART
2. CODE: THANKSDENALI
3. GO TO CHECKOUT
Happy Canning!!

(Please note: Only 1 Coupon allowed per person to be used. Offer not able to be combined with other discounts. This offer is for new Canners to try out Denali Lids this Winter Season!)
WHAT YOU'LL RECEIVE: 12 Pack – Denali Lids (Regular Mouth or Wide Mouth)
•••
THERE ARE SO MANY DIFFERENT USES FOR CANNING
Meal Preservation. Crafts that you can Serve (or sell!). Safety in Sustainability (the world might end soon right?). And MUCH, MUCH More! …Drink Prep? Ok just kidding on that one. But seriously, there are a million uses for canning so we won't list them all here. We will let you figure out all the fun and various uses as you begin your canning journey (although we know many of you have already begun!).

•••
THE DENALI FAMILY IS FULL OF AWESOME PEOPLE AND AWESOME PRODUCTS
Obviously, packing a can is a duty we can all support, and that's why these Denali Lids have been specially made to take away any worries while canning that favorite drink, meal and anything else your heart desires. If you read all of this, on behalf of Denali Canning Company, thanks, and enjoy your Denali Lids!
•••
HIGH-QUALITY FAMILY MADE CANNING SUPPLIES
Yes we did that, because who wants to keep supporting all these robber-barons shipping lower-than-average quality canning supplies from who knows where? Not us. Not you. Not anybody. That's why when you're shopping with Denali Canning, you're shopping at a store that helps give back to communities around America! And in the meantime, you also help us put food on the table for our kids, and our workers kids as well. For that we thank you! And you best believe that the food we're servin' up was fresh and sometimes outta-the-can just like y'all because we don't do those silly old super markets either (unless we need to go pickup some cheap whiskey!).
•••
FARM-TO-TABLE (NOT JUST A TREND) IT'S A MOVEMENT!
Fresh Produce is a great way to up your nutrients, but going to the local market each week can be tedious. Canning is a way to preserve buying in bulk!
•••
BEST DEALS AROUND TOWN! (OR MAYBE AROUND THE COUNTRY TOO)
You need Canning Supplies? We got the canning supplies! You want to save some money? We can help you save money! It all starts with the rings and lids you buy. Then you have to focus on making farm-fresh produce (or picking some up at your local market) to save even more, instead of going and spending a fortune on groceries every week. Use these two money-saving techniques, and you'll be saving money each week! Now you can put that money toward a new truck, or maybe a new table for the dining room, or maybe even your next vacation! (But life is already a vacation with such rich and wholesome food on the table now isn't it?)
•••

PREMIUM MATERIALS ONLY
Why would we use anything else? Exactly. These lids are here to provide those who love canning with the tools they need to have that awesome leftover jar ready to go whenever. PreserveLock™ Seals, up to 18 months of storage time, Food-Grade Lining, Premium Forged Steel, and the best bang for your buck without a doubt!
Shipping & Delivery
Products have quick, but different ship-times. We have information related to delivery time placed on each product's description page.
Most products will ship within 1 business day and take 3-4 business days to arrive. We pride ourselves on having very fast shipments, because we know you want to enjoy our products to the fullest!
Newly added products or on sale products may take up to 7-9 days for high demand, to perform proper packaging & shipment. During special holidays, orders may take longer to be processed.
Orders are processed on weekdays from Monday - Friday. On rare occasions, some orders may arrive later than expected due to extreme weather conditions, hurricanes or other natural disasters.
Pre-Order products will take up to 30 days to be delivered or earlier in some cases.
We are proud to state that all of our products ship from the USA! 
Denali Guarantee
Here at Denali, we pride ourselves on Premium Quality Products that serve Homesteaders, Canners, Off-Gridders, Hunters, Gatherers, Farmers, Kitchen Enthusiasts and so many more awesome people across the USA!
If you've ever bought a product from Denali Canning,
you know you're getting the absolute BEST!
That's why every purchase is backed with our Denali Premium Product Guarantee.
This means you get to be sure that the product you order is the product you get! And if anything doesn't work as expected, will replace for you to the best of our ability.
If there is a malfunction of any Denali product, not due to an operator error, we will help you resolve and fix the issue ASAP with our Best-In-Class Customer Service Reps!
FREE Shipping when you spend $50 or more