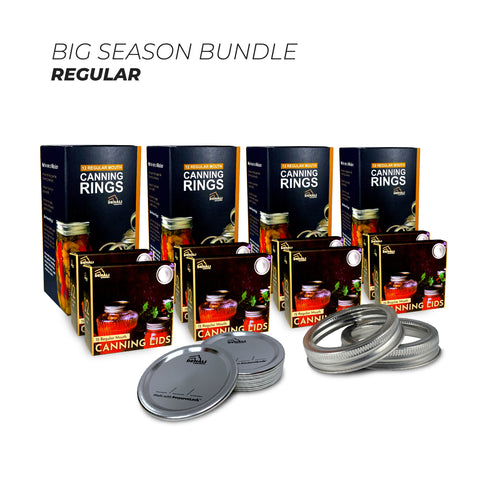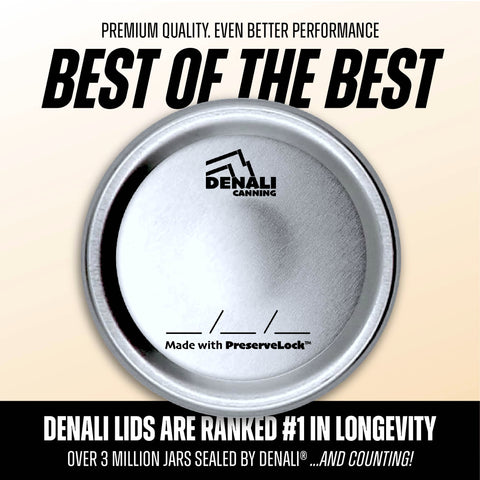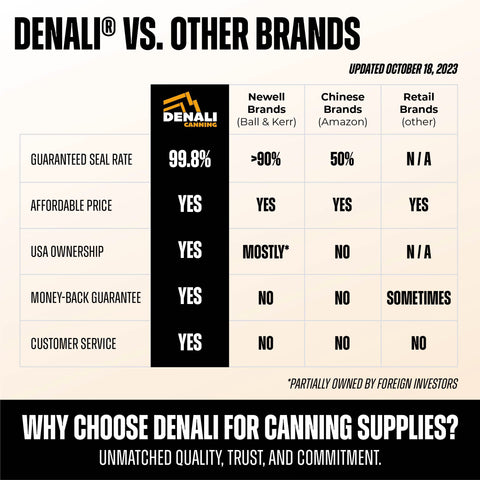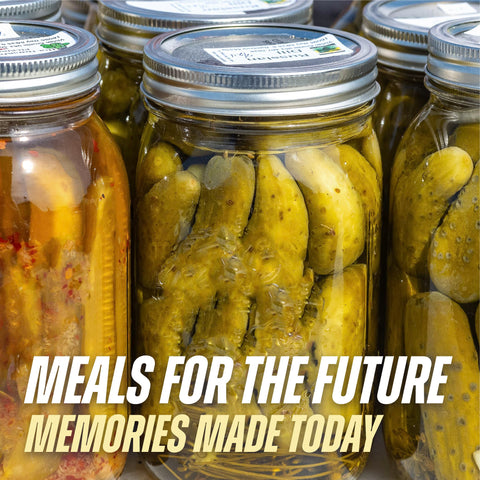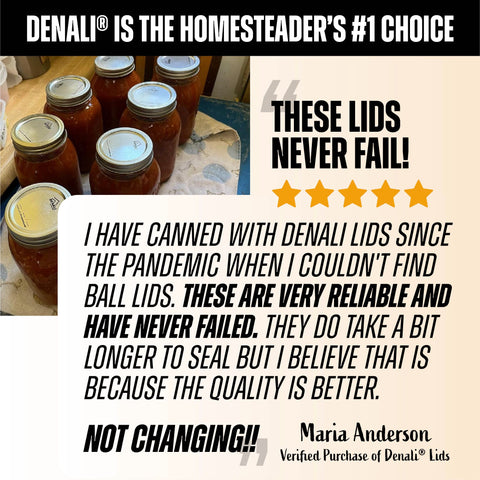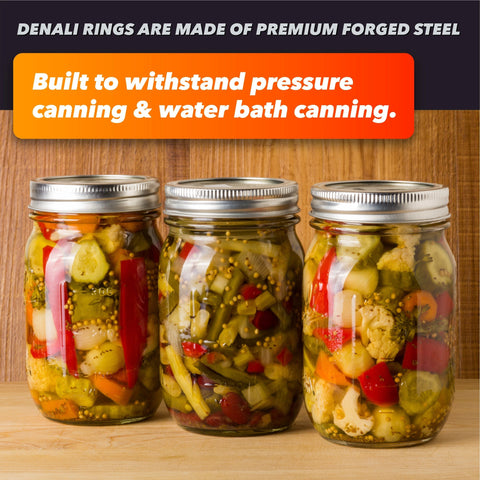 Regular, (8) Dozen Lids, (4) Dozen Rings
#1 Most Recommended Homesteading Brand 🇺🇸
All Denali® products come with a money-back guarantee ONLY when you purchase through this website or at one of our 250+ Retail Locations.
$52.99
$54.99
you save $2.00
#1-Rated Canning Supplies
Over 3 Million Jars Sealed
134,000+ Homesteaders Choose Us
250+ Retail Stores Trust Denali®
99.8% Success with PreserveLock™
2-Year Long Seal or longer*
✅ Why Choose Denali®
In the heart of the homesteading and canning community, Denali® emerges as a beacon of quality, innovation, and unparalleled customer service. 🌟 Our journey, marked by a robust family of over 134,000+ homesteaders, canners, and enthusiasts nationwide, resonates with commitment and care. 🌍 Our products proudly grace over 250+ retail locations, reflecting trust and widespread acclaim. Here's why choosing Denali® is choosing excellence:
📱 Engaged and Active Social Presence:
With nearly 18,000 followers across various social media platforms, we thrive in a space of engagement, interaction, and community-building. Fun activities, generous giveaways, and lively interactions characterize our social presence, making us the most loved brand in the canning world.
📦 Unmatched Services:
Our shipping, logistics, and return programs are streamlined to ensure your satisfaction. We enhance your experience with irresistible bonuses, referral programs, and a host of other benefits that make your journey with us delightful and rewarding.
🚚 Shipping & Delivery Details
We pride ourselves on quick fulfillment & delivery! We know you need these products for your family so we work hard every day to make quick shipping possible.
Fulfillment: 1-2 business days
Delivery: 3-4 business days across most of the USA 🇺🇸 (unless you select different shipping options at checkout)
Remember we still are a growing company, so please be patient if your order is delayed!
Packed with ❤️ in Delran, New Jersey!
—
Please note:
Newly added products or on sale products may take up to 5-7 days for high demand, to perform proper packaging & shipment.
During special holidays, orders may take longer to be processed.
Orders are processed on weekdays from Monday - Friday. On rare occasions, some orders may arrive later than expected due to extreme weather conditions, hurricanes or other natural disasters.
Pre-Order products will take up to 30 days to be delivered or earlier in some cases.
We are proud to state that all of our products ship from New Jersey! 
🔒 What is the Denali® Guarantee
Here at Denali, we pride ourselves on Premium Quality Products that serve Homesteaders, Canners, Off-Gridders, Hunters, Gatherers, Farmers, Kitchen Enthusiasts and so many more awesome people across the USA!
If you've ever bought a product from Denali Canning, you know you're getting the absolute BEST!
That's why every purchase is backed with our Denali Premium Product Guarantee.
This means you get to be sure that the product you order is the product you get! And if anything doesn't work as expected, will replace for you to the best of our ability.
If there is a malfunction of any Denali product, not due to an operator error, we will help you resolve and fix the issue ASAP with our Best-In-Class Customer Service Reps!
🌱 Denali Canning Community
🏬 Over 250+ Retail Locations
Our expanding presence in over 250+ retail locations speaks volumes about our trustworthiness and the widespread love for our products.
Our growing network ensures that quality is always within your reach! We are mostly based in the midwest & rustbelt, but if you want to see us more local to you, please reach out to us and let us know.
🚀 Denali® Product Innovation
Our passion for improvement sees us launching new product lines annually.
In 2020 our focus had been on producing the best Lids & Rings available online (and now in stores).
In 2021 we expanded into Pressure Canning. This is when we redesigned the simple form of a pressure canner, engineered new weights & valves and created the #1-Rated Beginner Level Pressure Canner with extra safety features, called THE TANKER™ (GET IT HERE)
In 2022 we expanded further, and continuously worked in the background on new household appliances so that Homesteaders across America can get more value from the Denali vision! This is when we released THE BEAST™ 8-Layer Stainless Steel Dehydrator (GET IT HERE)
In 2023 we continued to expand our operations, and precision-engineered prototypes. At this point we have 3-4 new appliances in the pipeline for 2024, but have not released them to the public while they undergo rigorous testing and analysis. In the meantime we are developing some really fun, fashionable, affordable clothing & homesteader gear (CHECK IT OUT) that would be a great addition to any Canner, Homesteader, Off-Gridder or Farmer's wardrobe!
In 2024, like we said before, we have A LOT of new stuff on the way. Be ready to get more involved with the World's Greatest Homesteading Company—Denali Canning!
❤️ Customer-Focused Team
At Denali®, customers are at the core of our universe!
Our dedicated support team, reachable at 272-CANNING, is a testament to our commitment to you.
We're not just another company; we are the ONLY homesteading & canning brand offering such a devoted support crew.
Here to help you along your journey whether you're a Beginner, or a Homesteading Pro!
*make sure you inspect the airtight seal before removing lids from your preserved mason jars.
Quick Fulfillment 💪🏼 1-2 Days
Fast Delivery 📦 2-4 Days
Our Team is Based in New Jersey 🇺🇸